Have you been thinking about investing in a direct drive truckmounted system to streamline your business? The information on this page will give you some insights on this machine to get you started. For a more detailed quote, or to inquire about financing option, we have a friendly team who can answer your questions and guide you through the process. Request a Quote
High Heat: up to 240?F working water temperatures for exceptional cleaning results
Powerful Performance: 365 CFM for fast drying time, adjustable pressure up to 1200 PSI for upholstery, carpet and hard surface cleaning
Fuel Efficiency: the Electronic Throttle Module (ETM) regulates the van RPM reducing fuel consumption
Compact Design: 25" is all that?s required, leaving the rest of your cargo space available for other equipment
Safety Features: Park Break Sensor, High Temperature Shutdown, Waste Tank Full Shutdown and Security Hose Ports to keep your equipment safe while you work
Warranty: 5 Year Extend-A-Care Warranty protects your investment for years to come
Complete truckmount operation starts with the precisely designed control panel featuring a gauge monitoring package, pressure & temperature controls and a dual speed setting for upholstery, carpet or hard surface cleaning.  Truckmount operation is powered by an E.T.M. (Electronic Throttle Module) which maintains the van engine speed at a consistent RPM, increasing vacuum performance by 30% and reducing fuel consumption to only 1.5 gallons per operating hour.
(*As tested by GM installation)
High Heat: up to 240°F working water temperatures for exceptional cleaning results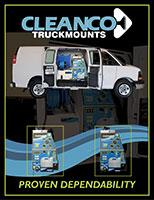 Powerful Performance: 365 CFM for fast drying time, adjustable pressure up to 1200 PSI for upholstery, carpet and hard surface cleaning
Fuel Efficiency: the Electronic Throttle Module (ETM) regulates the van RPM reducing fuel consumption
Compact Design: 25″ is all that's required, leaving the rest of your cargo space available for other equipment
Safety Features: Park Break Sensor, High Temperature Shutdown, Waste Tank Full Shutdown and Security Hose Ports to keep your equipment safe while you work
Warranty: 5 Year Extend-A-Care Warranty protects your investment for years to come
Manual for Cleanco Truckmount Compact 45
Engine: Direct drive system powered by host vehicle engine
Blower: Roots 45 Whispair DSL (dual splash lubricant, no grease fittings), 365 CFM, oil site lines & lube port on front panel
Filter System: Twin 2.5″ stainless steel blower protection filters, lift out lint basket
Pump: 5CP Cat Pump, clutch activated, 1200 PSI factory setting adjustable down to 50 PSI
Heat Method: Dual reverse flow heat exchangers, 200°F water temperature up to 240°F with optional Heat Max P.T.I. post heat system
Gauge Package: vacuum gauge, hour meter, blower speed tachometer, water pressure gauge, water temperature gauge
Waste Tank: 100 gallon powder coated 3/16 marine aluminum with 'Flow Max' unrestricted airflow design, sloped floor for easy draining, 120 gallon optional
Drain System: 2″ drain valve or optional external auto drain
Freshwater Tank: optional 125 gallon Aqua Reel tank
Dimensions: 58″ L x 25″ W x 37″ H
Weight: 656 lbs
Precision Balanced PTO Drive Shaft
100 Gallon Waste Tank
Roots 45 Whispair DSL Vacuum Blower
5CP Clutch Activated Cat Pump
Dual Coolant Heat Exchangers (205°F max)
Dual Solutions Connections
Dual 2″ Vacuum Connections
Dual Speed Settings (carpet & upholstery)
Quick Release Control Panel: gauge package, pressure & temperature adjustment, chemical flow meter, pre-wired auto drain, pump & blower oil site lines, blower lube port
Titanium 2″ Truckmount Carpet Wand
100 ft x 2″ Vacuum Hose
100 ft High Temperature Solution Hose
Chemical Jug & Holder
Interior Light Package
Park Break Sensor
Security Hose Port
High Temperature Shutdown
Waste Tank Full Shutdown
5 Year Extend-A-Care Warranty
Operation & Maintenance Manual
Embroidered Cleanco Jacket
Chev and GMC Cargo Vans
2015 – 2020 Chev/GMC Cargo Van 6.0L V8 Gas
NOTE: Not Compatible with Passenger Vans
Cleanco does not recommend installing Compact Direct Drive PTO units in a van that has excessive wear and tear or is older than specified above.
Cleanco requires a minimum van specification of ¾ ton for Compact Direct Drive PTO systems.
It is recommended that prior to the purchase of a van, the customer review the specifications of the van with an authorized Cleanco Distributor or contact Cleanco directly.